Central Valley Flood Protection Board
The Central Valley Flood Protection Board (CVFPB) is the State regulatory agency responsible for ensuring that appropriate standards are met for the construction, maintenance, and protection of the flood control system that protects life, property, and wildlife habitat in California's vast and diverse Central Valley from the devastating effects of flooding. CVFPB issues encroachment permits and works with other agencies to improve the flood protection structures, enforces removal of problematic encroachments, and keeps watch over the Central Valley's continually improving flood management system.
---
PUBLIC HOURS AND MEETINGS SUBJECT TO CHANGE IN RESPONSE TO COVID-19
In light of recent developments regarding COVID-19, we wanted to reach out and provide an update on our public hours and 2020 meeting schedule.
The Central Valley Flood Protection Board is closely monitoring COVID-19 developments, which have created uncertainty for us all. Just like every organization, we are unsure how this will play out, for how long, and how it will affect our upcoming meetings.
What is clear is the seriousness of this rapidly spreading virus. Thus, we are taking the following steps:
Public Counter Hours are currently suspended until March 31st, but the Board remains open for business. We can be contacted by phone or email as noted below.
The Coordinating Committee meeting scheduled for March 25 in Stockton has been canceled.  We are tentatively rescheduling this meeting for April 22nd however this date is subject to change as the situation unfolds.
The March 27, 2020 Board meeting will go on as scheduled, however, the public is requested to attend remotely.  For further details check our March 27th event page. Instructions on how to join the meeting follow:
JOIN LIVE ONLINE WEBEX CVFPB MEETING (click link)
https://attcorp.webex.com/attcorp/j.php?MTID=m35d5467d2810095962b854ef7e0aac7c
Choose browser option
Once in the meeting click "AUDIO" at the top and choose your preference to hear the meeting.
TO JOIN BY PHONE ONLY
dial 1-844-517-1415
Meeting number (access code): 471007165#
(You will not be able to see the slides if you join by phone only)
We will make changes to workshops, committee meetings and other programs in April and beyond on an event-by-event basis to ensure the safety and health of our stakeholders, attendees and staff. The Centers for Disease Control and Prevention this weekend issued guidance to postpone events over the next eight weeks with 50 or more people. Many of our events are below that threshold but we will assess whether to carry out those events as the time gets closer.
Please check our website for periodic updates; we will be updating events as we confirm next steps around postponement or cancellation based on public health guidelines.
In addition:
We expect many of our staff will be working remotely to do our part to stem the virus' progression. Thus, emailing us rather than calling our office with your questions is the best way to reach us. If you are currently working with a staff member on an item, please continue to contact that staff member.  If you need general information, please contact the general mailbox at Questions@CVFlood.ca.gov.
We will be prioritizing permits based upon health and safety factors, including the availability of staff and partners, and application processing times may be extended during this period.  Please bear with us as we work through this new system.
We appreciate your understanding during this situation.
We're all in this together! Stay healthy and we'll keep in touch with updates as we have them.
Leslie Gallagher
Executive Officer
Permit and Inspection Fees Coming July 1, 2019
CVFPB will be charging permit and inspection fees for permit applications received after July 1, 2019. Fee information can be found here.
NEWS & HIGHLIGHTS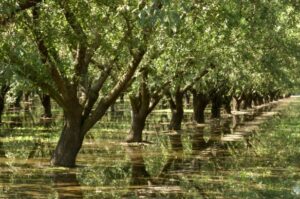 From American Greatness – The rains bypassed sunny California in January and February, encouraging talk of another drought. California's last drought was only declared ended about a year ago, after two wet winters in a row filled the state's reservoirs. To cope with the last drought, instead of building more reservoirs and taking other measures to increase the supply of water, California's policymakers imposed permanent rationing. This predictable response ignores obvious solutions. Millions of acre-feet of storm runoff could not only be stored in new reservoirs but also in underground aquifers with massive unused capacity. Additional millions of acre-feet could be recovered by treating and reusing wastewater, and by joining the rest of the developed nations living in arid climates who have turned to large scale desalination. All of this, however, would require a change in philosophy from one of micromanagement of demand to one that emphasizes increasing supply. (more)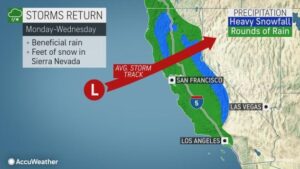 From AccuWeather – After an absence of major storms for much of the winter, the 'March Miracle,' in terms of wet weather, seems likely to continue next week in California. The storm that brought drenching rain and yards of snow to the Sierra Nevada early this week has now all but cleared out of the state of California. A lull in storms is forecast late this week to this weekend, but a new series of storms is destined to impact much of the West next week with more rain and mountain snow from Monday to Wednesday. "It looks like a general 1 to 3 inches of rain during the first half of the week for California alone," AccuWeather Senior Meteorologist Brett Anderson said. The most frequent rain may focus from just north of Los Angeles to the Oregon border, but some periodic rains will sweep through the L.A. Basin to San Diego and the deserts as well. (more)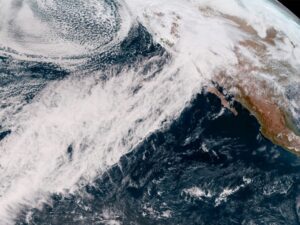 From Center for Western Weather and Water Extremes – While the Pacific Northwest experienced serious flooding in January and February, areas farther south are bracing for drought after an extremely dry winter. People in these dry regions are hoping for a "Miracle March" to deliver substantial rain and snow to alleviate drought risk. However, a new experimental forecast tool looking out as far as three weeks shows little chance of this happening. The tool focuses on the odds of atmospheric rivers hitting the region over the next three weeks. Atmospheric river storms can deliver up to half of California's total annual precipitation and cause 90 percent of flooding in the state, while a lack of enough of these storms can lead to drought. (more)
Visit the State of California
Department of Public Health online
for all the latest publicly available information
and guidance on the COVID-19 virus
Welcome!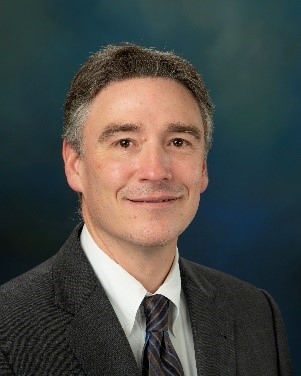 Meet Brian Johnson, our new Board member. He was appointed to the Central Valley Flood Protection Board by Governor Newsom on January 27, 2020. Brian has been California director at Trout Unlimited since 2011, where he was director of the California water program from 2005 to 2011. He was an associate at Shute, Mihaly & Weingerger LLP from 2000 to 2005, associate director for communications at the Council on Environmental Quality, Executive Office of the President from 1993 to 1997, and manager of Energy Star Computers for the U.S. Environmental Protection Agency, Office of Air and Radiation from 1991 to 1993. Johnson earned a Juris Doctor degree from Stanford Law School. Welcome, Brian!