Central Valley Flood Protection Board
The Central Valley Flood Protection Board (CVFPB) is the State regulatory agency responsible for ensuring that appropriate standards are met for the construction, maintenance, and protection of the flood control system that protects life, property, and wildlife habitat in California's vast and diverse Central Valley from the devastating effects of flooding. CVFPB issues encroachment permits and works with other agencies to improve the flood protection structures, enforces removal of problematic encroachments, and keeps watch over the Central Valley's continually improving flood management system.
---
PUBLIC HOURS AND MEETINGS SUBJECT TO CHANGE IN RESPONSE TO COVID-19
In light of the continuing COVID-19 pandemic, we wanted to reach out and provide an update on our public hours and 2021 meeting schedule.
The Central Valley Flood Protection Board is closely monitoring the continued COVID-19 developments, which have created uncertainty for us all. Just like every organization, we are unsure how this will play out, for how long, and how it will affect our upcoming meetings.
In order to protect our employees and the public while still providing essential services, as of February 1, 2021 we are taking the following steps:
Public Counter Hours are currently limited until further notice, but the Board remains open for business. Administrative staff will be in the office on Tuesdays and Thursdays. We ask that members of the public please be sure to coordinate with our staff to deliver any physical applications they have on these days. We can be contacted by phone or email as noted below.
The September 24, 2021 Board Meeting meeting will go on as scheduled, however, the public is requested to attend remotely.  For further details check our September 24th event page. Instructions on how to join the Meeting are below. (September 24th, 2021 Board Meeting Agenda)
Past recordings can be viewed on the CVFPB YouTube Channel
Background for agenda items is available electronically. Please email the Clerk at Ryan.Jones@CVFlood.ca.gov to request an electronic copy of any agenda item.
JOIN LIVE ONLINE WEBEX CVFPB MEETING (click link)
Log In Info Below:
Join by phone
1-844-517-1271 US Toll Free
Access code: 132 803 8260
We will continue to host our Board meetings, workshops, committee meetings and other programs through WebEx on an event-by-event basis to ensure the safety and health of our stakeholders, attendees and staff. Please check our website for periodic updates; we will be updating events as we confirm next steps around postponement or cancellation based on public health guidelines.
In addition:
Office hours are limited as most of our staff is working remotely to do our part to stem the virus' progression. Thus, emailing us rather than calling our office with your questions is the best way to reach us. If you are currently working with a staff member on an item, please continue to contact that staff member.  If you need general information, please contact the general mailbox at Questions@CVFlood.ca.gov.
We will be prioritizing permits based upon health and safety factors, including the availability of staff and partners, and application processing times may be extended during this period.  Please bear with us as we work through this new system.
We appreciate your understanding during this situation.
We're all in this together! Stay healthy and we'll keep in touch with updates as we have them.
Leslie Gallagher
Executive Officer
NEWS & HIGHLIGHTS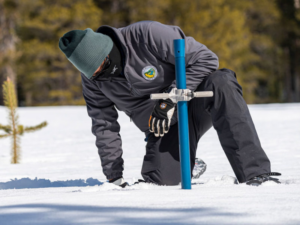 From EOS – Today there are approximately 1,600 snow courses in the United States, with around 260 in California, primarily in the Sierra Nevada and the southern Cascades. Some date back more than a hundred years. Data from these locations, said de Guzman, represent the longest-running climate record in the Sierra Nevada. In the West, manual snow surveys are augmented by data from an automated snow telemetry (SNOTEL) network maintained by the Department of Agriculture's Natural Resources Conservation
Service that provides hourly snowpack measurements. What these collective data tell snow surveyors, water resources managers, policymakers, and millions of people enduring water shortages, drought, flooding, and wildfires is that the snowball effect of climate change often begins, appropriately enough, with snow. And snow—how much falls, where and when, how much accumulates, and how quickly it melts—is changing. (more)

From mavensnotebook.com – The sixth annual California Water Data Summit was held in August of 2021 with the theme, "Expect the Unexpected."  The keynote speaker was Secretary of Natural Resources Wade Crowfoot, a position he has been in no less than three times before, including the very first Water Data Summit held at Stanford in 2016. "We talk about water resilience as enabling communities and natural places to adapt to weather growing challenges, whether that's climate-driven drought, and flooding, or any other manner of impacts on water systems. So, to me, it's all about enabling California, both our human communities and our natural communities, to continue to be able to thrive, given, frankly, the stressors on our water system." (more)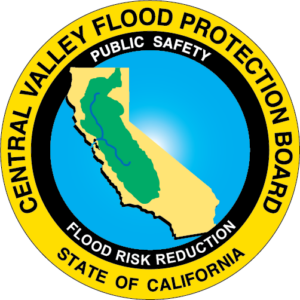 The Central Valley Flood Protection Board meets this Friday, September 24th beginning at 9 a.m.
Agenda items include an update on the Central Valley Flood Protection Plan 2022 Update; consideration of a permit for the Yolo Bypass "Big Notch" project; and an update on the Lower Sacramento River/Delta Regional Flood Management Plan Update. Click here for the full agenda and remote access instructions
Visit the State of California
Department of Public Health online
for all the latest publicly available information
and guidance on the COVID-19 virus
Congratulations!
Sacramento River East Levee – 2020 Construction Receives American Society of Civil Engineers Outstanding Project of the Year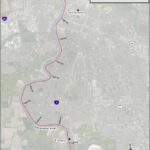 With the ongoing efforts of levee improvements along the Sacramento River East Levee (SREL), Contract 1 was recently selected by the American Society of Civil Engineers as the Outstanding Project of the Year! The SREL Contract 1 construction which began in March 2020 and was completed on February 8, 2021, involved 3 miles of levee improvements. Among other project support, Central Valley Flood Protection Board (Board) staff has been working closely with federal and local project partners to address encroachments identified within the project footprint to advance the necessary public safety levee improvement works.
The greater Sacramento area of California, is often considered to be one of the most at-risk regions in America for catastrophic flooding, relying on an aging system of levees, weirs and bypasses, and Folsom Dam to reduce its flood risk. Together, the U.S. Army Corps of Engineers (USACE), the Board, and the Sacramento Area Flood Control Agency have made tremendous progress in reducing the flood risk, but more work remains. Through the Bipartisan Budget Act, the USACE has received full upfront funding of $1.56 billion to upgrade and modernize Sacramento's aging flood infrastructure. The authorized work, commonly known as the American River Common Features 2016 Project, includes up to 13 miles of seepage cutoff walls, 21 miles of bank protection, 5 miles of levee stabilization, 5 miles of levee raises, and widening of the Sacramento Weir and Bypass.