Central Valley Flood Protection Board
The Central Valley Flood Protection Board (CVFPB) is the State regulatory agency responsible for ensuring that appropriate standards are met for the construction, maintenance, and protection of the flood control system that protects life, property, and wildlife habitat in California's vast and diverse Central Valley from the devastating effects of flooding. CVFPB issues encroachment permits and works with other agencies to improve the flood protection structures, enforces removal of problematic encroachments, and keeps watch over the Central Valley's continually improving flood management system.
---
2023 PUBLIC HOURS AND MEETING SCHEDULE
In accordance with the Governor's order, the Board will continue to host hybrid meetings and workshops through 2023.  Locations and access information for future meetings will be posted on our homepage and updated as needed.
Likewise, our office will remain open for business, but public counter hours are limited to appointments only.  For public drop off of physical documents, including applications and fees, we can be contacted by phone or email as noted below to schedule a drop off.
Past recordings of meetings can be found on the CVFPB YouTube Channel

Background for agenda items is available electronically.  Please email the Board Clerk at Ryan.Jones@CVFLOOD.CA.GOV to request an electronic copy of any agenda item.

We will continue to host our Board meetings, workshops, committee meetings and other programs as hybrid or virtual on an event-by-event basis. Please check our website for periodic updates
In addition:
Office hours are limited as most of our staff is working remotely. Thus, emailing us rather than calling our office with your questions is the best way to reach us. If you are currently working with a staff member on an item, please continue to contact that staff member.  If you need general information, please contact the general mailbox at Questions@CVFlood.ca.gov.

We will be prioritizing permits based upon health and safety factors, including the availability of staff and partners, and application processing times may be extended during this period.  Please bear with us as we work through this new system.
We appreciate your understanding during this situation.
We're all in this together! Stay healthy and we'll keep in touch with updates as we have them.
Jane Dolan
Board President
NEWS & HIGHLIGHTS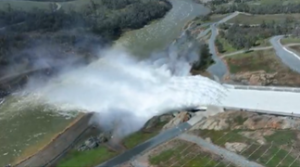 From KRON4 News – As wet weather has continued to impact California, some reservoirs across the state are being managed with scheduled releases of water to prevent flooding, according to the California Department of Water Resources (DWR). After 14 atmospheric rivers hit back-to-back this winter, reservoirs began filling quickly. Though most of the major reservoirs aren't full yet, several are significantly higher than they have been historically. This is especially true in Central California at the Don Pedro, Camanche and Oroville reservoirs.
Northern California
Video shared by DWR shows a large release of water from Lake Oroville down into the Feather River at a rate of 35,000 cubic feet per second. The U.S. Army Corps of Engineers is working with downstream water operators to schedule releases in an effort to manage flood control. (more)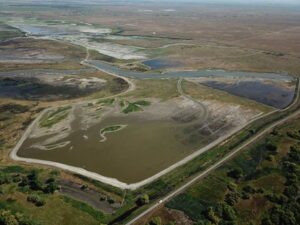 From Ducks Unlimited – Before Californians built a network of levees and dams to keep cities from flooding, the rivers that formed the Central Valley each winter would spill out of their channels. In the wettest years, they'd flood to form a massive inland sea that stretched hundreds of miles from Redding to Bakersfield. In wet winters such as this one, those rivers keep trying to form that massive seasonal wetland again, testing the strength of the levees that protect communities built on the state's floodplains. Along two of the state's most flood-prone rivers, Ducks Unlimited has been working to create wetlands that use those natural flood patterns to create vital habitat for waterbirds and wildlife. The projects highlight why Californians should look to wetland expansion as one of the solutions to help reduce the risks from future floods. (more)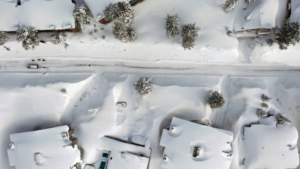 From The Merced Sun-Star – The snowpack in the Sierra Nevada Mountains has reached record-breaking levels thanks to the deluge of snow smashing California this week. According to data from the California Department of Water Resources (CDWR), the Southern Sierras-from San Joaquin and Mono counties to Kern county-currently have a snowpack 257 percent greater than the average for this time of year, and 247 percent larger than is average for the usual snowpack peak on April 1. Central Sierra and Northern Sierra also have hugely inflated snowpacks, at 218 percent and 168 percent of the average for early March, respectively. TOP VIDEOS Top Videos 01:20 01:30 Merced courthouse named after legal scholar and civil rights attorney The Sierra Nevada Mountains stretch around 400 miles from Northern California southwards to the Great Basin. They have been buffeted by snowstorms as a result of the atmospheric river systems plowing eastwards from the Pacific Ocean, leaving thousands of people without power. "As of this weekend, the Southern Sierra now appears to have largest snowpack in recorded history (as measured by snow water equivalent, or SWE). Not just for the calendar date, but for *any* date!" tweeted Daniel Swain, a climate scientist at UCLA and the Nature Conservancy. (more)
Visit the State of California
Department of Public Health online
for all the latest publicly available information
and guidance on the COVID-19 virus
Recruitment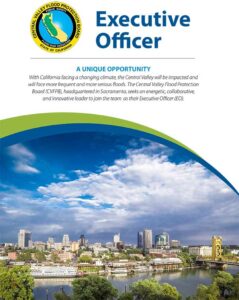 Executive Officer Recruitment CVFPB is recruiting to fill its key leadership position! The Executive Officer (EO) is responsible for the consistent achievement of the Board's mission and objectives, the implementation of a long-term strategy for success, and leadership of a highly skilled professional staff consisting of engineers, environmental scientists, and support staff. The EO is the principal contact and must have sound working relationships with the Natural Resources Agency, the Department of Water Resources (DWR), the US Army Corps of Engineers, the California State legislature, other partners and stakeholders, and the public. The EO provides organizational leadership, staff direction, coordination with state and federal partners and stakeholders; the development of proposed internal policies and procedures for the Board's review and concurrence, implementation of Board directives and development of future strategies for Board approval and is responsible for consistent achievement of the Board's mission and objectives. Follow the link for more information, including important details on how to apply!