Central Valley Flood Protection Board
The Central Valley Flood Protection Board (CVFPB) is the State regulatory agency responsible for ensuring that appropriate standards are met for the construction, maintenance, and protection of the flood control system that protects life, property, and wildlife habitat in California's vast and diverse Central Valley from the devastating effects of flooding. CVFPB issues encroachment permits and works with other agencies to improve the flood protection structures, enforces removal of problematic encroachments, and keeps watch over the Central Valley's continually improving flood management system.
---
2022 PUBLIC HOURS AND MEETING SCHEDULE
In accordance with the Governor's order,  the Board will continue to host virtual meetings and workshops through March 31, 2022.  Locations and access information for future meetings will be posted on our homepage and updated as needed.
Likewise, our office will remain open for business, but public counter hours are limited to appointments only.  For public drop off of physical documents, including applications and fees, we can be contacted by phone or email as noted below to schedule a drop off.
The Board meeting schedule for 2022 can be found here

Past recordings of meetings can be found on the CVFPB YouTube Channel

Background for agenda items is available electronically.  Please email the Board Clerk at Ryan.Jones@CVFLOOD.CA.GOV to request an electronic copy of any agenda item.

We will continue to host our Board meetings, workshops, committee meetings and other programs virtually on an event-by-event basis to ensure the safety and health of our stakeholders, attendees and staff. Please check our website for periodic updates; we will be updating events as we confirm next steps around postponement or cancellation based on public health guidelines.
In addition:
Office hours are limited as most of our staff is working remotely to do our part to stem the virus' progression. Thus, emailing us rather than calling our office with your questions is the best way to reach us. If you are currently working with a staff member on an item, please continue to contact that staff member.  If you need general information, please contact the general mailbox at Questions@CVFlood.ca.gov.

We will be prioritizing permits based upon health and safety factors, including the availability of staff and partners, and application processing times may be extended during this period.  Please bear with us as we work through this new system.
We appreciate your understanding during this situation.
We're all in this together! Stay healthy and we'll keep in touch with updates as we have them.
Leslie Gallagher
Executive Officer
NEWS & HIGHLIGHTS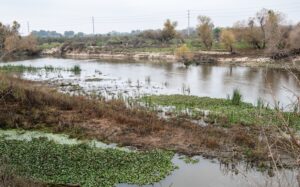 From the Department of Water Resources – On a small scale, aquifers — subsurface natural basins — have been recharged with flood waters from extreme storms for decades. Now, a new Department of Water Resources (DWR) assessment shows how Flood Managed Aquifer Recharge, or Flood-MAR, can help reduce flood risk and boost groundwater supplies across large areas of land. A climate change problem solver, Flood-MAR collects high flow flood waters from heavy precipitation or snow melt and conveys it downstream. There, the flood waters are spread across the land, creating wetland habitat or irrigating fields while also percolating to aquifers underground. The capturing of flood waters during times of peak flows lessens the risk of major flooding during heavy storms. Some of the collected water is also later redirected back to waterways to support ecosystems and riverine habitat. (more)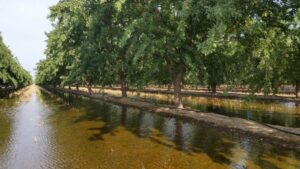 From the Manteca/Ripon Bulletin – The advent of the state mandate to stabilize groundwater has prompted scientists and researchers to look at the impacts of flood irrigation differently. The Sustainable Groundwater Management Act that requires a plan in place by 2025 to work toward taking no more water out of a basin than is recharged in a given year. The SGMA mandate must be fully implemented by 2040. If using winter storm runoff in almond orchards is found to be an effective and a safe way to recharge groundwater, researchers estimate there are 3.6 to 5.6 million acres of almonds with conducive soil that could be used for recharging purposes in California. It could be a fast and effective way at getting excess winter water flows that end up in the Pacific Ocean to recharge aquifers. (more)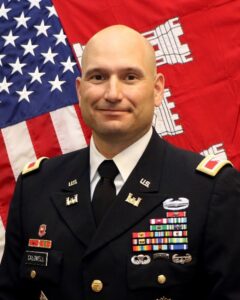 From USACE, Sacramento District – Caldwell assumes command of one of the largest districts in all of USACE, operating in parts of eight western states. The Sacramento District's nearly 1,200 civilian and military employees execute an annual workload of approximately $1.5 billion. Caldwell previously served with USACE as the strategic planner to the Chief of Engineers at USACE headquarters. "The great thing about our engineer corps is we are thriving with talent, and today we welcome another outstanding Army Engineer to lead the Sacramento District," Gant continued. Caldwell is a recent graduate from the Naval War College in Newport, Rhode Island, where he earned a master's degree in National Security and Strategic Studies. He also holds master's degrees in Engineering Management and Structural Engineering and is a licensed Professional Engineer in the state of Missouri. He was commissioned as a Second Lieutenant in 1999 when he graduated from the U.S. Military Academy at West Point with a Bachelor of Science Degree in Civil Engineering. (more)
Visit the State of California
Department of Public Health online
for all the latest publicly available information
and guidance on the COVID-19 virus
Congratulations!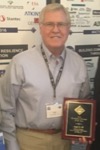 Reggie Hill is retiring after 37+ years as Lower San Joaquin Levee District's Secretary-Manager. The Board, at its June Board Meeting, presented him with a Board resolution recognizing his significant contributions to the improvement and progress of California's Central Valley flood management system. The picture (left) is of Reggie receiving Floodplain Management Association's 2016 Floodplain Manager of the Year award.

George Qualley, who retired from the Department of Water Resources in 2009, and whose valuable knowledge and expertise in flood management was still very much needed, will fully retire at the end of June as well. He has spent an incredible 52 years of distinguished service to California and its citizens in water and flood management. The picture (left) is from Chief Meteorologist Mark Finan's interview for KCRA's documentary Floods of '97, What's Changed?
Both will be sorely missed, and the Board wishes them many great retirement years. They leave public service having given California, in their long, exemplary professional careers, so many positive contributions.