Central Valley Flood Protection Board
The Central Valley Flood Protection Board (CVFPB) is the State regulatory agency responsible for ensuring that appropriate standards are met for the construction, maintenance, and protection of the flood control system that protects life, property, and wildlife habitat in California's vast and diverse Central Valley from the devastating effects of flooding. CVFPB issues encroachment permits and works with other agencies to improve the flood protection structures, enforces removal of problematic encroachments, and keeps watch over the Central Valley's continually improving flood management system.
---
2022 PUBLIC HOURS AND MEETING SCHEDULE
In accordance with the Governor's order,  the Board will continue to host virtual meetings and workshops through March 31, 2022.  Locations and access information for future meetings will be posted on our homepage and updated as needed.
Likewise, our office will remain open for business, but public counter hours are limited to appointments only.  For public drop off of physical documents, including applications and fees, we can be contacted by phone or email as noted below to schedule a drop off.
The Board meeting schedule for 2022 can be found here

Past recordings of meetings can be found on the CVFPB YouTube Channel

Background for agenda items is available electronically.  Please email the Board Clerk at Ryan.Jones@CVFLOOD.CA.GOV to request an electronic copy of any agenda item.

We will continue to host our Board meetings, workshops, committee meetings and other programs virtually on an event-by-event basis to ensure the safety and health of our stakeholders, attendees and staff. Please check our website for periodic updates; we will be updating events as we confirm next steps around postponement or cancellation based on public health guidelines.
In addition:
Office hours are limited as most of our staff is working remotely to do our part to stem the virus' progression. Thus, emailing us rather than calling our office with your questions is the best way to reach us. If you are currently working with a staff member on an item, please continue to contact that staff member.  If you need general information, please contact the general mailbox at Questions@CVFlood.ca.gov.

We will be prioritizing permits based upon health and safety factors, including the availability of staff and partners, and application processing times may be extended during this period.  Please bear with us as we work through this new system.
We appreciate your understanding during this situation.
We're all in this together! Stay healthy and we'll keep in touch with updates as we have them.
Leslie Gallagher
Executive Officer
NEWS & HIGHLIGHTS
From California Department of Fish & Wildlife – The California Department of Fish and Wildlife (CDFW) has selected 23 ecosystem restoration and protection projects to fund under its Proposition 1 Watershed Restoration Grant and Delta Water Quality and Ecosystem Restoration Grant Program. The awards total $26 million. Of the $26 million, approximately $21 million was awarded to 15 projects statewide through the Prop. 1 Watershed Restoration Grant Program. Approximately $5 million was awarded to eight projects through the Prop. 1 Delta Water Quality and Ecosystem Restoration Grant Program to projects that directly benefit the Sacramento-San Joaquin Delta. (more)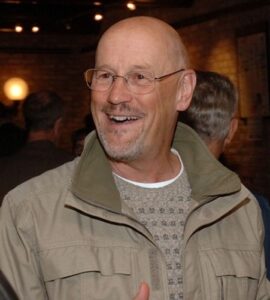 From The Department of Water Resources – Jonas Minton, who served Californians for decades as a member of the DWR team and Deputy Director, passed away this week at the age of 73. Jonas had a passion for protecting the environment and water during his impressive 33-year career with DWR. Jonas was manager of DWR's Office of Water Supply Division from 1978 to 1994. During the 1990s, he worked for the El Dorado County Water Agency, the U.S. Bureau of Reclamation, and the Executive Director of the Water Forum before being appointed Deputy Director at DWR by Governor Gray Davis in 2000. Among his many projects and accomplishments during his time at DWR, Jonas worked on the purchase of Staten Island, flood corridor regulations, the Yuba Flood Control Program, water transfers, 50 different grant programs, water use efficiency, and so much more. (read more here)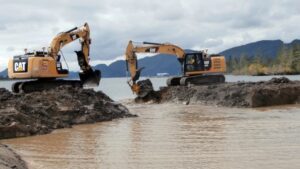 From The Revelator – Levee setback projects in Northern California, such as those along the Cosumnes River, decreased flood risk to communities and helped recharge aquifers, Pinter says. Fish came back. "If the water gets there, the fish will get there," Pinter says. "Nature seems to be grateful for these little bits that we give back." Moving levees even 100 feet back benefits communities and ecosystems, says Ian Sinks, the stewardship director for Columbia Land Trust, a conservation nonprofit. (more)
Visit the State of California
Department of Public Health online
for all the latest publicly available information
and guidance on the COVID-19 virus
Congratulations!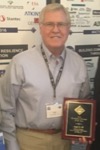 Reggie Hill is retiring after 37+ years as Lower San Joaquin Levee District's Secretary-Manager. The Board, at its June Board Meeting, will present him with a Board resolution recognizing his significant contributions to the improvement and progress of California's Central Valley flood management system. The picture (left) is of Reggie receiving Floodplain Management Association's 2016 Floodplain Manager of the Year award.

George Qualley, who retired from the Department of Water Resources in 2009, and whose valuable knowledge and expertise in flood management was still very much needed, will fully retire at the end of June as well. He has spent an incredible 52 years of distinguished service to California and its citizens in water and flood management. The picture (left) is from Chief Meteorologist Mark Finan's interview for KCRA's documentary Floods of '97, What's Changed?
Both will be sorely missed, and the Board wishes them many great retirement years. They leave public service having given California, in their long, exemplary professional careers, so many positive contributions.