Central Valley Flood Protection Board
The Central Valley Flood Protection Board (CVFPB) is the State regulatory agency responsible for ensuring that appropriate standards are met for the construction, maintenance, and protection of the flood control system that protects life, property, and wildlife habitat in California's vast and diverse Central Valley from the devastating effects of flooding. CVFPB issues encroachment permits and works with other agencies to improve the flood protection structures, enforces removal of problematic encroachments, and keeps watch over the Central Valley's continually improving flood management system.
---
PUBLIC HOURS AND MEETINGS SUBJECT TO CHANGE IN RESPONSE TO COVID-19
In light of the continuing COVID-19 pandemic, we wanted to reach out and provide an update on our public hours and 2021 meeting schedule.
The Central Valley Flood Protection Board is closely monitoring the continued COVID-19 developments, which have created uncertainty for us all. Just like every organization, we are unsure how this will play out, for how long, and how it will affect our upcoming meetings.
In order to protect our employees and the public while still providing essential services, as of February 1, 2021 we are taking the following steps:
Public Counter Hours are currently limited until further notice, but the Board remains open for business. Administrative staff will be in the office on Tuesdays and Thursdays. We ask that members of the public please be sure to coordinate with our staff to deliver any physical applications they have on these days. We can be contacted by phone or email as noted below.
The February 26, 2021 Board meeting will go on as scheduled, however, the public is requested to attend remotely.  For further details check our February 26th event page. Instructions on how to join the Meeting are below:
Past recordings can be viewed on the CVFPB YouTube Channel
Background for agenda items is available electronically. Please email the Clerk at Ryan.Jones@CVFlood.ca.gov to request an electronic copy of any agenda item.
JOIN LIVE ONLINE WEBEX CVFPB MEETING (click link)
CVFPB Meeting Room
https://cadwr.webex.com/meet/CVFPB | 1328038260
Join by video system
Dial CVFPB@cadwr.webex.com and enter your host PIN .
You can also dial 173.243.2.68 and enter your meeting number.
Join by phone
1-844-517-1271 US Toll Free
Access code: 132 803 8260
We will continue to host our Board meetings, workshops, committee meetings and other programs through WebEx on an event-by-event basis to ensure the safety and health of our stakeholders, attendees and staff. Please check our website for periodic updates; we will be updating events as we confirm next steps around postponement or cancellation based on public health guidelines.
In addition:
Office hours are limited as most of our staff is working remotely to do our part to stem the virus' progression. Thus, emailing us rather than calling our office with your questions is the best way to reach us. If you are currently working with a staff member on an item, please continue to contact that staff member.  If you need general information, please contact the general mailbox at Questions@CVFlood.ca.gov.
We will be prioritizing permits based upon health and safety factors, including the availability of staff and partners, and application processing times may be extended during this period.  Please bear with us as we work through this new system.
We appreciate your understanding during this situation.
We're all in this together! Stay healthy and we'll keep in touch with updates as we have them.
Leslie Gallagher
Executive Officer
NEWS & HIGHLIGHTS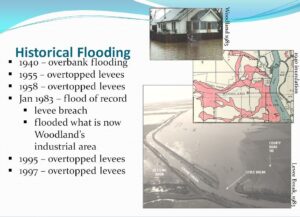 From The Daily Democrat– Despite objections from some of the same landowners who have complained for nearly a decade that their property is being put at risk, the Woodland City Council has advanced its Lower Cache Creek Flood Feasibility Study. Acting this past week, the council voted unanimously to put the financial well-being of residents and businesses first in adopting an environmental impact report which favors a multi-million dollar project to divert Cache Creek floodwaters. (more)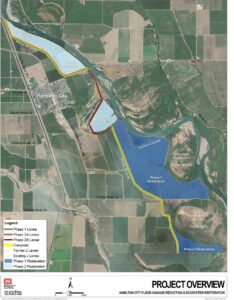 From DredgingToday.com – The U.S. Army Corps of Engineers, Sacramento District recently reached two important milestones for the small town of Hamilton City, California, located about 100 miles north of Sacramento. Margaret Engesser, a project manager with Sacramento District, has become very familiar with the Hamilton City and its levee system. "December was an important month for the Hamilton City Flood Risk Reduction and Ecosystem Restoration project," said Engesser. "It marked the completion of the construction of a portion of the new Phase 2B levee that will add additional protection for the town. Additionally, the first phase of the ecosystem restoration was completed." The Hamilton City Project is unique because it is one of the Corps' first multipurpose projects, authorized for the purposes of flood risk management and ecosystem restoration. When completed, it will include 6.8 miles of new "setback" levee, providing much-needed flood protection, and will restore approximately 1,500 acres of native riparian habitat. (more)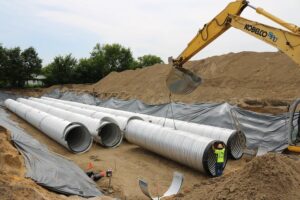 From The Revelator – Many stormwater projects can provide additional benefits besides just supplementing the water supply. Experts have found they can also reduce flood risk, improve habitat, reduce urban temperatures and energy use, create recreational space, and increase property values. For their study, the Pacific Institute researchers looked at dozens of proposed projects in California. They found that properly accounting for all these additional benefits can be difficult and is often overlooked as water agencies and municipalities compare the economics of different options to boost water resources. (more)
Visit the State of California
Department of Public Health online
for all the latest publicly available information
and guidance on the COVID-19 virus
Congratulations!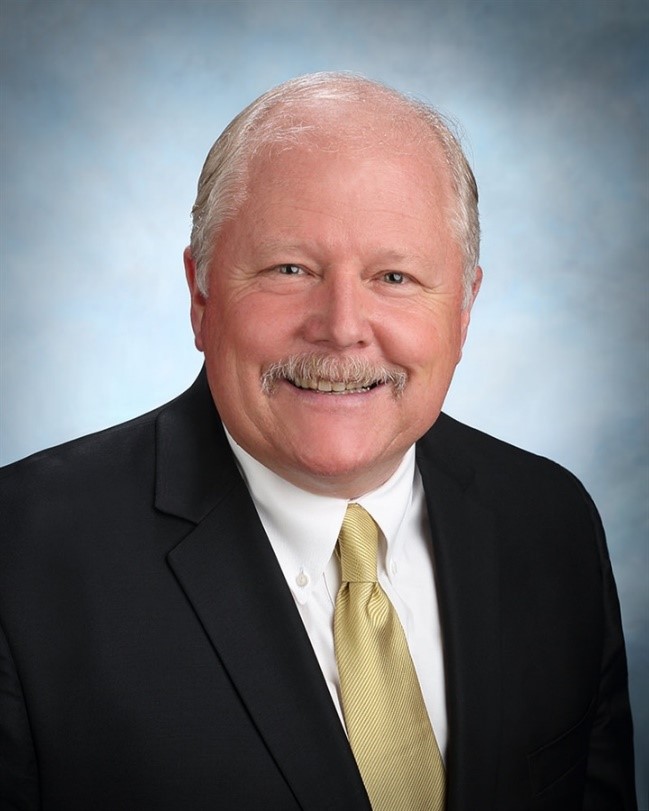 San Joaquin Engineers Council 2021 Engineer of the Year Award
From Caravan News - The San Joaquin Engineers Council is pleased to announce Mr. Christopher H. Neudeck, P.E. as the recipient of the 2021 Engineer of the Year Award. The award is for meritorious and altruistic service to the engineering profession and to the community. The recipient of this award must have dedicated their professional knowledge and skills to the advancement of human welfare, lived and worked according to the highest standards of professional conduct; to have served with the honor and standing of their profession before personal advantage, and the public welfare above all other considerations. Neudeck received the 2019 ASCE Sacramento Section Capitol Branch Outstanding Civil Engineer Award and the 2019 Floodplain Management Association's Integrated Flood Management Award. As a recognized authority on water resources in the Sacramento-San Joaquin Delta, Chris currently serves as District Engineer for over 20 Reclamation Districts, where he has managed numerous water-related projects in San Joaquin County, Sacramento County and surrounding areas. (more)