Central Valley Flood Protection Board
The Central Valley Flood Protection Board (CVFPB) is the State regulatory agency responsible for ensuring that appropriate standards are met for the construction, maintenance, and protection of the flood control system that protects life, property, and wildlife habitat in California's vast and diverse Central Valley from the devastating effects of flooding. CVFPB issues encroachment permits and works with other agencies to improve the flood protection structures, enforces removal of problematic encroachments, and keeps watch over the Central Valley's continually improving flood management system.
---
2023 PUBLIC HOURS AND MEETING SCHEDULE
In accordance with the Governor's order, the Board will continue to host hybrid meetings and workshops through 2023.  Locations and access information for future meetings will be posted on our homepage and updated as needed.
For public drop off of physical documents, including applications and fees, we can be contacted by phone or email as noted below to schedule a drop off.
With our new hybrid teleworking environment, most staff are only at our office location on Tuesdays each week. Administrative staff are available at the front desk Tuesdays and Thursdays from 8:30 am – 3:00 pm. Appointments are required to meet with staff or receive in-person assistance at the front desk.  If you are currently working with a staff member on an item, please continue to contact that staff member.  If you need general information, please contact the general mailbox at Questions@CVFlood.ca.gov.

We will be prioritizing permits based upon health and safety factors, including the availability of staff and partners, and application processing times may be extended during this period.  Please bear with us as we work through this new system.

Past recordings of Board meetings and workshops can be found on the CVFPB YouTube Channel
Jane Dolan
Board President
NEWS & HIGHLIGHTS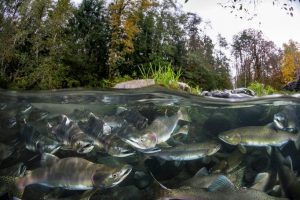 From CBSNews – A salmon habitat restoration project in the American River is hoping to make life easy for the struggling fish headed up for the fall run. The stretch of the American River near Carmichael has always been an integral part of salmon spawning — fall-run Chinook salmon, in particular. The populations have dwindled so much, that the fishing season for them was actually suspended for this year. The Sacramento Water Forum has been trying to change that over the past 15 years, making this area sleep better habitat. The changes include grinding rocks down to gravel so instead of just popping into the river, they end up becoming gravel which can become life-saving for fish when they spawn. "Thirty to 50% of the spawning on the river happens in our project sites, so we know that this construction is very important," said Erica Bishop with the Sacramento Water Forum. (more)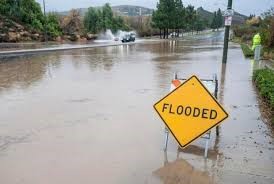 From LA Times – On the heels of a record-setting wet and warm August, forecasters on Thursday announced that El Niño is gaining strength and will almost certainly persist into 2024. El Niño, the warm phase of the El Niño-La Niña Southern Oscillation pattern, is a major driver of weather worldwide and is often associated with hotter global temperatures and wetter conditions in California. The system arrived in June and has been steadily gaining strength, with a 95% chance that it will persist into at least the first three months of 2024, according to the National Oceanic and Atmospheric Administration. The odds of the system becoming a "strong" El Niño have increased to 71%. (more)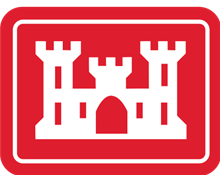 From USACE Sacramento District – The U.S. Army Corps of Engineers is the federal government's largest water resources development and management agency. Through the Floodplain Management Services (FPMS) program, the Corps provides information on flood hazards to local interests, state agencies, and other federal agencies to guide development of the floodplains of the rivers of the United States. The FPMS program addresses the needs of people who live and work in floodplains to know about flood hazards, and the actions they can take to reduce property damage and prevent the loss of life caused by flooding. The program's objective is to foster public understanding of the options for dealing with flood hazards and to promote prudent use and management of the nation's floodplains. The FPMS program provides a full range of technical services and planning guidance that is needed to support effective floodplain management. (more)
Visit the State of California
Department of Public Health online
for all the latest publicly available information
and guidance on the COVID-19 virus
Congratulations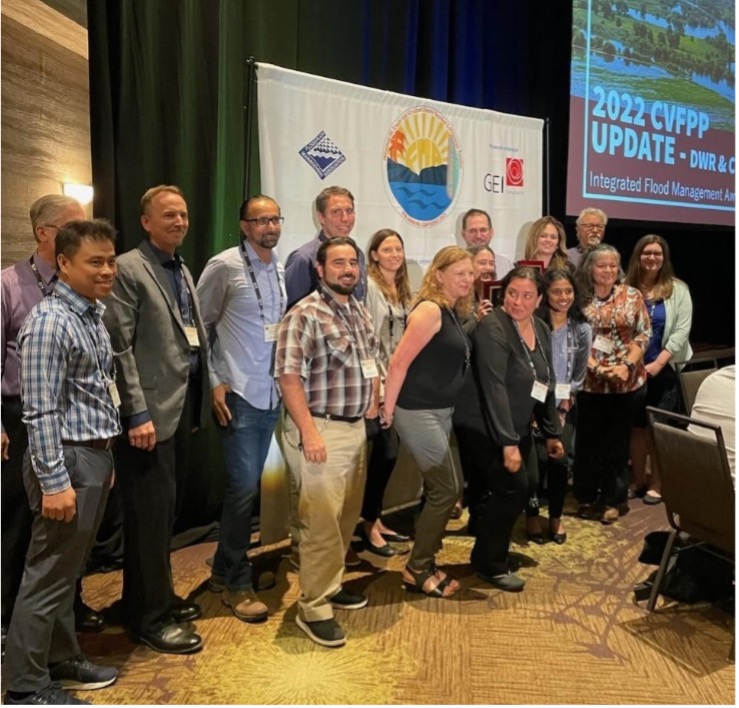 Central Valley Flood Protection Board (CVFPB) and Department of Water Resources (DWR) Receive Floodplain Management Association's (FMA) Integrated Flood Management Award
This award is given to individuals or project teams who have prepared and/or implemented a locally-approved, state-approved, or federally-approved multi-objective flood management plan. Candidate projects should demonstrate innovative advancements in water management as well as collaborative partnerships with community groups and the general public. Project outcomes should benefit many stakeholder interests such as environmental, flood control, recreational, and emergency planning and responsiveness.
"The Central Valley Flood Protection Board and DWR are proud to receive the Floodplain Management Association's Integrated Flood Management Award for the 2022 Central Valley Flood Protection Plan (CVFPP) Update." The CVFPP Update was recognized for a robust, multi-year communication and engagement process involving state, federal, Tribal, regional, and local partners. DWR, with CVFPB input, incorporated the newest information, updated science, and innovative tools to develop priorities for improving flood risk management in the Central Valley. CVFPB officially approved the Update on December 16, 2022. Learn more about the CVFPP here. Congratulations to both agencies!