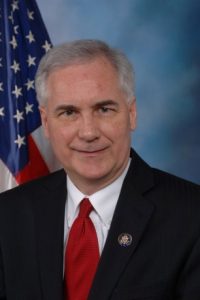 Washington, DC — Reported July 4, 2017. Mother Lode Congressman Tom McClintock has a bill that takes aim at "bureaucratic chaos," which he says is slowing the construction of water reservoirs. The District Four Republican introduced House Resolution 1654, the "Water Supply Permitting Coordination Act," which passed in the US House by a vote of 233-180. He says it would create a "one-stop" permitting process through the Bureau of Reclamation for new or expanded water storage facilities.
McClintock stated on the House floor, "It simply says the process needs to be more efficient, and that government agencies should coordinate and corroborate with each other, rather than talking past each other as isolated, and often inscrutable, fiefdoms. Five years of drought in California brought entire cities within months of exhausting their water supplies. The epic drought has now been followed with the wettest year on record, and we have helplessly watched our dams spilling millions of acre ft. to the ocean, because we have no place to store the excess for the next drought."
McClintock's bill now moves to the Senate for consideration.
Written by BJ Hansen, MML News Director, mymotherlode.com