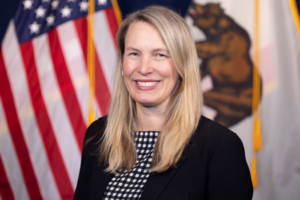 The Board and staff would like to extend a congratulations to Board member Keely Bosler, who's appointment was confirmed by the Senate last week.
A 22-year veteran of California state government, Keely Martin Bosler most recently served as the Director of the California Department of Finance from 2018 to 2022. Over four fiscal cycles, she led the development and negotiation of California's $300 billion budget, shaping the financial framework of the world's fourth-largest economy.
First appointed by Governor Edmund G. Brown Jr. to this role, she continued to serve as Governor Gavin Newsom's chief fiscal advisor through the COVID-19 pandemic and associated recession, as well as historic wildfires. Despite these challenges, she directed efforts to build historic reserves, pay down pension liabilities, and secure financial relief for millions of working Californians.
Prior to leading the California Department of Finance, Keely served as Governor Brown's Cabinet Secretary for more than two years, working across state government in partnership with 11 government agencies and over 70 departments. She also spent nearly a decade in the State Legislature, leading and advising across all budget and policy areas, including taxation, energy, water, education, and public safety.
Congratulations, Keely!