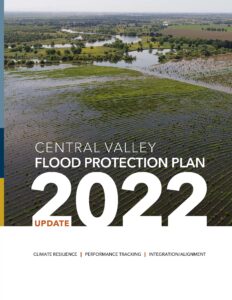 The Central Valley Flood Protection Board is pleased to announce that the California Department of Water Resources has transmitted the Public Draft of the 2022 Central Valley Flood Protection Plan Update to the Board on April 21, 2022 and is now available for public review.
During the public review period, the Board will host a series of  public hearings to collect comments on the Public Draft 2022 CVFPP Update.  
Comments on the Public Draft 2022 CVFPP Update should be provided no later than close of business (5 pm PST) on Monday, June 6, 2022. 
The 2022 CVFPP Update builds on the information in the 2017 CVFPP Update and was developed with significant engagement by local flood agencies and other interested parties. The 2022 CVFPP Update has three central themes: (1) Building flood system climate resilience; (2) Alignment with other state planning efforts; and (3) Accountability and performance tracking. 
Visit our CVFPP webpage to download the Public Draft 2022 CVFPP Update, receive directions on submitting comments and review supporting documents.