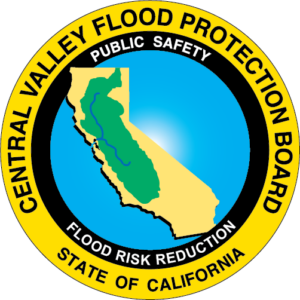 Please click on the link at the bottom for photos from a visit to the Lower Elkhorn Basin Levee Setback (LEBLS) project that took place on November 3, 2022. Board Member Countryman and I met with representatives from the California Department of Water Resources Flood Projects Branch and Systemwide Multibenefit Initiatives Branch and the U.S. Army Corps of Engineers. The purpose of the visit was to view the installation of tied-concrete block mats (TCBM) as an erosion protection measure against wind and wave action along the upper portion of the new Yolo Bypass setback to the east levee. Board staff has recently reviewed and approved a request by DWR to revise plans and apply this type of armoring for another part of the project near the Sacramento Weir.
The LEBLS project is quite complex and has a long history for a system improvement project. It consists of about seven miles of new setback levee along the north levee of the Sacramento Bypass and the east levee of the Yolo Bypass. DWR also is constructing seepage berms and an interior drainage system to expand the capacity and flood protection of the Yolo Bypass. The project will also contribute to:
Improved public safety for 780,000 people in Sacramento, West Sacramento, and Woodland by increasing bypass capacity and reducing flood stage in the Sacramento River and Yolo Bypass
Protection of approximately $53 billion in assets at risk of flooding
Increased floodplain, riparian, and native grassland upland habitat
Increased system resiliency – a benefit to public safety and ecosystems
Opportunities for future flood risk management improvements, ecosystem improvements, and local enhancement projects.
Initial permitting on this project began around July 2016 followed by permit issuance in May 2020.
Mike Zelazo, Senior Engineer
Flood System Improvement Branch
Central Valley Flood Protection Board
Click here to view photos: