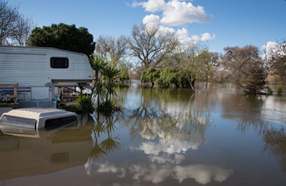 SACRAMENTO, Calif. – The U.S. Army Corps of Engineers Sacramento District is now accepting applications for Public Law 84-99 rehabilitation assistance through May 5, 2017. Public sponsors who own flood risk reduction projects within the Sacramento River basin that sustained damage as a result of storms during January to March have been sent letters notifying them to submit their requests for Federal assistance. Projects are eligible for assistance if they were active in the Corps' Rehabilitation and Inspection Program, meaning they've been inspected, evaluated and accepted into the program prior to the onset of the flood event.
The Corps can provide rehabilitation assistance only if the damage was sustained during the storm event from January to March, the cost of the repairs exceeds $15,000, and as long as the work is economically justified for the American taxpayer.
PL 84-99 allows the Corps to supplement local efforts in the repair of both Federal and non-Federal flood risk reduction projects damaged by flood.
Contact
Tyler Stalker
916-557-5107
tyler.m.stalker@usace.army.mil
Areas such as the Delta, San Joaquin Basin, and non-California regions will have similar application periods at a later date once water levels have decreased enough for inspections to occur.
The U.S. Army Corps of Engineers Sacramento District provides emergency response and assistance to customers in part of eight western states, including California, Nevada, Utah, Arizona, Colorado, Idaho, Oregon and Wyoming.